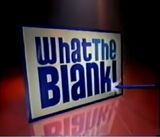 Taped
May 8, 2004 for FOX
Host
Fred Willard
Announcer
Randy West
This is chronicling the unsold 2004 remake of Match Game called What the Blank!.
The show is similarly fateful to Match Game. However, the primary difference is that the show includes segments in which people off the streets participated in matching answers with the contestants and celebrities. The contestants are between the ages of 21 and 30.
The Match Game
Match Game
The Match Game-Hollywood Squares Hour
Match Game (1985 Proposed Revival)
Match Game (1987 Proposed Revival)
Match Game (1990)
Match Game (1996 pilot)
Match Game (1998)
Match Game (2008 pilot)
Match Game (2016)
(Starts at 1:54)
Ad blocker interference detected!
Wikia is a free-to-use site that makes money from advertising. We have a modified experience for viewers using ad blockers

Wikia is not accessible if you've made further modifications. Remove the custom ad blocker rule(s) and the page will load as expected.