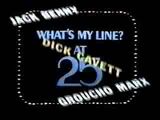 Genre
TV Special
Aired
ABC Primetime, May 28, 1975
Run time
90 Minutes
Hosts
Mark Goodson
Arlene Francis
John Daly
Announcer
Johnny Olson
Origination
Ed Sullivan Theater, New York City, New York (1968-1971)
NBC Studios 8H and 6A, New York City, New York (1971-1975)
What's My Line? at 25 was a television special chronicling the life, times, and excellent moments of the show.
After being off the air for more that 39 years, this special was re-broadcast at midnight on GSN as of December 24, 2014.
Ad blocker interference detected!
Wikia is a free-to-use site that makes money from advertising. We have a modified experience for viewers using ad blockers

Wikia is not accessible if you've made further modifications. Remove the custom ad blocker rule(s) and the page will load as expected.