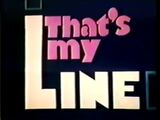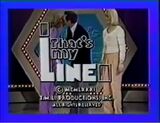 Genre
Reality
Aired
CBS Primetime, August 9, 1980–April 11, 1981
Run time
60 Minutes
Host
Bob Barker
Announcer
Johnny Olson
Correspondents
Suzanne Childs
Tiiu Leek
Kerry Millerick
That's My Line was a short-lived That's Incredible/Real People-like spinoff television show based on the successful What's My Line?.
This program focused on unusual occupations of average Joes & Josephines. The series was co-hosted by Suzanne Childs and Tiiu Leek who was joined during the 1981 season by Kerry Millerick. The thrust of the show during the 1981 season also changed from unusual occupations to an emphasis on the funny, bizarre or ridiculous.
Notable Moments
Edit
The series had a plethora of notable moments, including late voice-over artist Mel Blanc having a contest with an audience member on who does voice acting the best (the audience member being his son named Noel Blanc), or magician James Randi contesting James Hydrick's psychic abilities.
What's My Line? (Radio)
What's My Line?
What's My Line? (1963 proposed revival)
What's My Line? (1968)
What's My Line? (1981 proposed revival)
What's My Line? (2000 pilot)
What's My Line? (2008 Proposed revival)
What's My Line? (2015 Proposed revival)