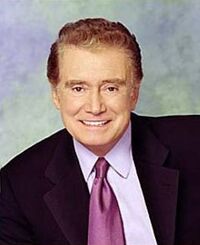 Regis Francis Xavier Philbin (born August 25, 1931) is an American media personality and occasional actor, known for fronting various talk and game shows. Appearing on television since the late 1950s, Philbin is often called (somewhat tongue-in-cheek and alternately attributed to James Brown) "the hardest working man in show business" and holds the Guinness World Record for the most time spent in front of a television camera. Philbin officially retired from television in 2011. Regis attended the University of Notre Dame, where he graduated.
Ad blocker interference detected!
Wikia is a free-to-use site that makes money from advertising. We have a modified experience for viewers using ad blockers

Wikia is not accessible if you've made further modifications. Remove the custom ad blocker rule(s) and the page will load as expected.