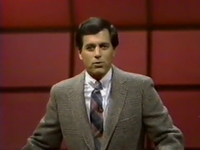 Peter David Tomarken (December 7, 1942 – March 13, 2006) was an American television personality primarily known as the host of Press Your Luck. He died in a plane crash in 2006; he is survived by the children from both of his marriages.
Goodson-Todman show hosted
Edit
Non Goodson Todman Shows hosted
Edit
Duel in the Daytime (1981 pilot)
Hit Man
Press Your Luck
Bargain Hunters
Monopoly (1987 Pilot)
Trivia Track
Paranoia
Peter and his Wife Kathleen
Edit
Tombstone
Edit
Ad blocker interference detected!
Wikia is a free-to-use site that makes money from advertising. We have a modified experience for viewers using ad blockers

Wikia is not accessible if you've made further modifications. Remove the custom ad blocker rule(s) and the page will load as expected.