One Happy Family was a short-lived sitcom.
Description
Edit
A meteorologist along with his wife live with his parents and grandparents.
Dick Sargent as Dick Cooper
Jody Warner as Penny Cooper
Chick Chandler as Barney Hogan
Elisabeth Fraser as Mildred Hogan
Jack Kirkwood as Charley Hackett
Cheerio Meredith as Lovely Hackett
Willard Waterman as Mr. Douglas (two episodes)
Maurice Gosfield as Fred (one episode)
James Komack as Perkins (one episode)
George Tobias as Mr. Kendall (one episode)
Main Article: One Happy Family/Episode Guide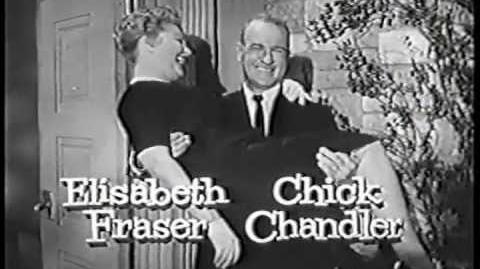 Ad blocker interference detected!
Wikia is a free-to-use site that makes money from advertising. We have a modified experience for viewers using ad blockers

Wikia is not accessible if you've made further modifications. Remove the custom ad blocker rule(s) and the page will load as expected.