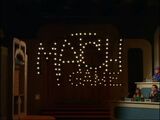 Taped
July 22, 2008 at CBS Studio 33 for TBS
Run time
30 Minutes
Host
Andy Daly
This is chronicling the 2008 pilot for a new version Match Game.
Game Format
Edit
The object of the game was to match as many of the celebrities as they can. At the beginning of each round, one contestant had a choice of two questions (A or B) leaving the other one for the other contestant. Each contestant was read a statement with a blank at the end or near the end. Then the six celebrities wrote down their answers to fill in the blank. When finished, the contestant in control gave an answer of his/her own after which the stars revealed their answers. Each time the contestant matched he/she scored a point but each celebrity can only be matched one time. Like Match Game PM the game was played in three rounds and the player who had matched the most celebrities at the end of round three won the game. The winner of the game won the right to play an all new Super Match.
Super Match
Edit
The contestant's job is to fill the blank with the most popular answer. After the clock stops, the contestant is allowed to change two of them with the help of the celebrities (they only call on one, but helping is encouraged). For each correct guess of the popular answer, $200 is awarded. Then comes the standard Head-to-Head for 10x the money, up to $10,000.
Model Designs
Edit
The six celebrities that were seen in the pilot were: Super Dave Osborne, Sarah Silverman, Scott Thompson, Rashida Jones, Norm Macdonald and Niecy Nash. In addition, Niecy Nash would later become a panelists in the ABC Alec Baldwin revival in 2016.
The pilot was later shot down in favor of the George Lopez hosted, short-lived, late-night talk show called Lopez Tonight which aired from 2009 until 2011.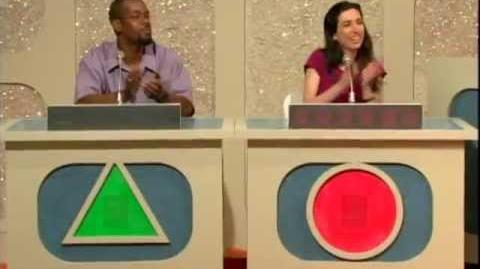 The Match Game
Match Game 1973-1982
Match Game Hollywood Squares Hour
Match Game (1985 Proposed Revival)
Match Game (1987 Proposed Revival)
Match Game (1990)
Match Game (1996 pilot)
Match Game (1998)
What the Blank!
Match Game (2016)
Match Game ('08) Pilot @ usgameshows.net
Match Game ('08) Set Design
More Match Game ('08) Set Designs
Ad blocker interference detected!
Wikia is a free-to-use site that makes money from advertising. We have a modified experience for viewers using ad blockers

Wikia is not accessible if you've made further modifications. Remove the custom ad blocker rule(s) and the page will load as expected.