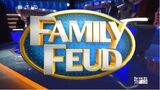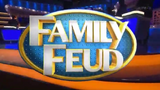 Aired
TV3 (2016-2017)
+HR=E (2017)
Host
Dai Henwood
Game format
Edit
Merchandise
Edit
Board Game
Edit
Imagination (2016)
Edit
Star Wars-Themed Edition (2017)
Edit
Buzzer App
Edit
Screenshot
Edit
Its set and logo is inspired by the 2014 Australian version hosted by Grant Denyer. The set from the Australian version in particular was used from 2014 until 2017.
In 2016, the first family to ever stay for five games and win a Holden Barina CD Auto were the Dyson family.
In 2017, a news report says that the series has been axed for good after two years in order for its host Dai Henwood to emcee a New Zealand version of Dancing With the Stars. However, a limited number of All-Star Family Feud episodes will be made in 2018.
Mediaworks cans Family Feud after nearly two years on screen
All Star Family Feud (New Zealand)