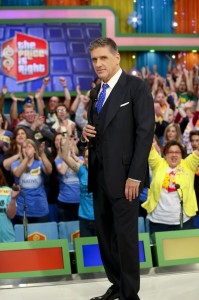 Craig Ferguson (born 17 May 1962) is a Scottish-born American television host, stand-up comedian, writer, actor, director, author, producer and voice artist. he was known for playing as Nigel Wick (opposite Drew Carey) on the 1995-2004 ABC sitcom The Drew Carey Show.
He has also written and starred in three films, directing one of them and has written two books with Between the Bridge and River (a novel) and American on Purpose (a memoir).
Ferguson hosted a special April Fools Day episode of The Price is Right in 2014. Prior to this, he also appeared on a few episodes of the show as well. as of now in 2014, Ferguson cuurently host the syndication game show Celebrity Name Game.
Goodson-Todman show Hosted
Edit
The Price is Right (April Fools Day only/2014)
Non Goodson Todman Show Hosted
Edit
Celebrity Name Game (2014-present)
Ad blocker interference detected!
Wikia is a free-to-use site that makes money from advertising. We have a modified experience for viewers using ad blockers

Wikia is not accessible if you've made further modifications. Remove the custom ad blocker rule(s) and the page will load as expected.