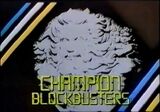 Aired
ITV (1987-1990)
Host
Bob Holness
Game Format
Edit
Unlike its regular series, this version invited former winners back to play again for their favorite charities (including the "mystery letter" boosting their funds considerably when answering the questions correctly. However, the contestants still won the Gold Run prizes, all of which were relevant in some way to whatever their now doing.
Merchandise
Edit
No Merchandise
No Photos
Ad blocker interference detected!
Wikia is a free-to-use site that makes money from advertising. We have a modified experience for viewers using ad blockers

Wikia is not accessible if you've made further modifications. Remove the custom ad blocker rule(s) and the page will load as expected.