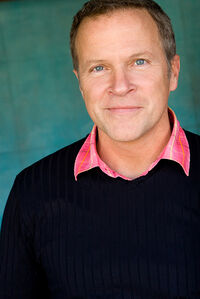 Bil Dwyer (born March 30, 1962) is an american stand-up comedian and game show host. Television shows he hosted include GSN's Extreme Dodgeball, I've Got a Secret and The 50 Greatest Game Shows of All-Time, Dirty Rotten Cheater and Ultimate Fan League.
Dwyer was born in Evergreen Park, Illinois and is alumnus of Southern Illinois University Carbondale.
He was the analyst for Comedy Central's BattleBots throught its original run and also appeared as a host/character on MTV's The 70's House in 2005. He appeared on the short-lived Cartoon Network series Out of Jimmy's Head and a sub host of GSN Radio and stars in comedic web golf series, The Range Show with Bil Dwyer.
He has been one of the talking heads on MTV and VH1 shows including I Love the '90s, I Love the '90s: Part Deux, I Love the '80s 3-D and 101 Biggest Celebrity Oops. He also provided commentary on GSN's recent series of game show specials including The Real Match Game Story: Behind the Blank and Game Show Countdown: Top 10 Hosts. He appeared as one of the finalists on the fourth season of Last Comic Standing, but was eliminated in the second regular episode finishing 10th in the competition.
Dwyer was pranked by Friday Night Cranks in 2008.
Dwyer has appeared in several podcast, including Never Not Funny and Battleship Pretension.
Goodson-Todman Show Hosted
Edit
Ad blocker interference detected!
Wikia is a free-to-use site that makes money from advertising. We have a modified experience for viewers using ad blockers

Wikia is not accessible if you've made further modifications. Remove the custom ad blocker rule(s) and the page will load as expected.